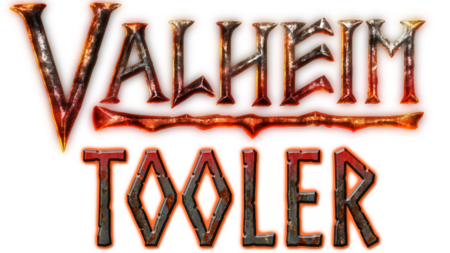 Discord (Support & Track): https://discord.gg/y2wbG5uQ7y
About • Install / Usage • Source / Contributing • Changelog
About
This mod is a port of the ValheimTooler on BepInEx. ValheimTooler is a free and open-source software that allows you to cheat on the Valheim game via a multitude of options offered. Be reasonable some features are particularly game breaker.
Here is the list of features offered by this mod:
Player

God Mode, you don't lose any more life
Unlimited stamina for you
Unlimited stamina for the other players
No stamina for the other players
Fly Mode, sweet creative mode 🕊️
Ghost Mode, the monsters cannot see you
No placement cost
Explore all your minimap (Irreversible on the world on which it is activated!)
Reset your minimap
Teleport to another player (works only if the player is visible on the minimap)
Instantly heals a player
Instantly heals all players
Activate a Guardian Power for you
Activate a Guardian Power for all players
Raise/Decrease a skill to any level
Tame all nearby creatures
Unlimited weight for inventory

Entities & Items

Spawn any entity
Delete all drops on the ground
An Item Giver to add any item you want in your inventory

Miscellaneous

Inflict damage to a player (ignores the no-pvp mode)
Kill all entities except players
Kill all players
Send a event message to all players (the yellow one on the middle of the screen)
Send a chat message as any username
A ESP for players, monsters, pickables, deposits and drops
⚠️ Warning ⚠️: On each feature that allows you to choose a player, the list will only include players who are at a certain distance from you (quite large but not the whole map for all that). This is not a personal choice but a technical limitation of the game. Until I find a way to get around it (if possible) this behavior will remain.
Install / Usage
Using mod manager
Just install the mod from the manager and it should be available.
Manual install
First, download and install the BepInEx for Valheim pack.
Then download ValheimTooler and extract the BepInEx/ folder in the game path.
To show/hide the cheat window you can press Del on your keyboard.
Source / Contributing
The tool is open-source and is open to contributions, check the Github repository!
Changelog
1.4.0 (10 October 2021)
Translations are now independent from the game internal translation system in order to prevent issues with other mods
The prefab list is now always up-to-date with any patch
1.2.1 (20 May 2021)
Fixed README for Thunderstore mod page
1.2.0 (13 May 2021)
Release compatibility for the latest version of the game 0.153.2
1.1.0 (31 March 2021)
Added minimap reset
Added taming of nearby creatures
Unlimited weight for the inventory!
More features for the ESP with the display of players, monsters, pickable items, deposits, and drops
Some UX improvements
Added a crash report to the launcher
Compatible with the latest version of the game 0.148.7
1.0.0 (5 March 2021)
First release of the tool