Get the Thunderstore App
Easily install and manage your mods with the Thunderstore App!
A new "Hildir's Request Update" category has been added to help tracking which mods are compatible with it, please categorize your uploads accordingly!
ValheimTwitch
This mod linked to the game Valheim allows your viewers on twitch to interract with you and their channel points by letting them send message with munin and hugin and allowed them to make troll spawn for example.
This mod requires the following mods to function
BepInEx pack for Valheim. Preconfigured and includes unstripped Unity DLLs.
Preferred version:
5.4.901
README
Valheim Twitch Mod
WIP project developed on Twitch. Follow my channel for more development live streams.
Features
For the broadcaster
In game Twitch authentication.
Create managed reward in game.
Auto enable/disable managed reward when the game start/stop/quit.
Update version notification.
Whistle tamed creature (shortcut).
Enable/Disable rewards (shortcut).
For the viewers
Print a message in the HUD (center or top left).
Send a message to the broadcaster via Hugin (the crow in the tutorial).
Change weather for a predefined duration.
Start events for a predefined duration (ex.: blobs horde).
Spawn different creature/boss (more or less aggressive, Troll, Boar, etc..) configurable in the game by the broadcaster.
Spawn tamed creature which takes the name of the viewer.
Player heal and puke.
Install
Nexus
Thunderstore
Manual (BepInEx Pack ValheimTwitch)
Download last pack release BepInExPack_ValheimTwitch.
Extract downloaded zip contents into game folder located at <Steam Location>\steamapps\common\Valheim.
Run the game.
Enjoy!
Manual (BepInEx already installed)
Download and install BepInExPack_Valheim.
Download last release ValheimTwitch.dll.
Copy ValheimTwitch.dll into <Steam Location>\steamapps\common\Valheim\BepInEx\plugins folder.
Run the game.
Enjoy!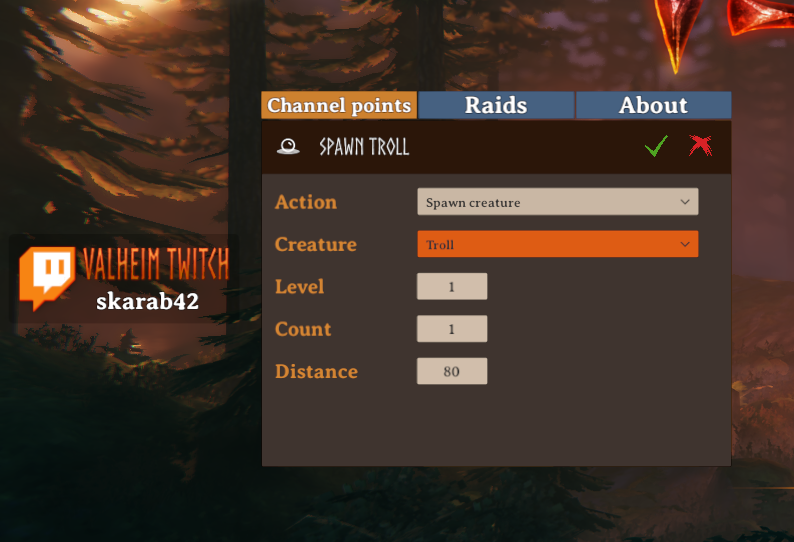 Available versions
Please note that the install buttons only work if you have compatible client software installed, such as the Thunderstore Mod Manager. Otherwise use the zip download links instead.